The Best Kept Secret of WW II
(A musical farce formerly titled I Was a Teenage Werewolf for the Third Reich)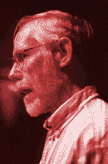 Terrence Ortwein (book & lyrics) has spent much of his adult life in the theater as producer, actor, director, and writer. From 1963-1997, Mr. Ortwein lead theater programs at Hanover High School in Hanover, (NH), Wabash College in Crawfordsville, (IN), and Choate Rosemary Hall in Wallingford, (CT). Mr. Ortwein has also been associated as actor, director, teacher, and administrator with Dartmouth College in Hanover, (NH), and the Colonial Theater in Westerly, (RI).

Mr. Ortwein has written a number of scripts. The Bunkhouse was selected for a workshop production at the National Playwrights' Conference, held at the Eugene O'Neill Theatre in Waterford, Connecticut, and was subsequently optioned for off-Broadway. Mr. Ortwein's one-act, "Act Three, Scene Five," has been performed in almost every state in the union. The Best Kept Secret of World War II is his first musical. Terry lives with his wife, Joanne, in West Lebanon, New Hampshire.

Richard Chiarappa (music) has been involved writing musical theatre projects for twenty five years. His most recent symphonic work is a novelty piece entitled "Romp" for Symphony Orchestra and Celebrity Triangulist." The premiere performance was recorded and can be found on YouTube. The piece is available for purchase at www.cmpub.com. In 2001 his piece for symphony orchestra and chorus, "Paean," was commissioned as theme music by the Institute for International Sport of Rhode Island, and received its premiere at the 2001 World Scholar-Athlete Games based at the University of Rhode Island and is used annually. Its premiere recording by the Scholar-Artist Orchestra can also be heard and purchased at the above mentioned site. As composer and writer of works for musical theatre, his present work, BRANDENBURGH, a farce based on a Mark Twain short-story, was named a semi-finalist in the 2001 McLaren Comedy Playwriting Competition in Texas. The CD and video tape of his recent work, LINCOLN & BOOTH, can be purchased through cmpub as well. His other works in musical theatre as composer include a collaboration with playwright, Terry Ortwein on the "cult" musical farce, THE BEST KEPT SECRET OF WORLD WAR II (formerly, I WAS A TEENAGE WEREWOLF FOR THE THIRD REICH), and a musical geared for high schools entitiled, HOOP, which he co-wrote with his wife, Martha, now published by Encore Performance Publishing in Tallahassee, Fl.Richard has been on the faculty of the Kingswood-Oxford School in West Hartford, Connecticut, since 1979 where he is director of the Chamber Jazz Singers, director of the K-O Jazz Ensemble, and has served as adjunct instructor in the English and computer departments. He was the Music Director of the Bristol (CT) Symphony Orchestra, from 1991-2002, and is the founding Music Director of the West Hartford Symphony Orchestra (2002). During summers since 1981, he has been the musical director/pianist for the Madison (CT) Beach Club's annual "Follies.".Richard is a member of ASCAP, the American Symphony Orchestra League, the Conductors Guild, MENC, CTMEA and the Dramatists Guild. He resides with his wife in West Hartford, CT. They have two grown daughters.